Important Info
President's Message
We're now deep into due diligence on the Oakmont Golf Club (OGC) question. Ongoing work includes: 1) using Oakmont Village Association (OVA) resources as well as the experience and expertise of potential operating, legal, real estate and financial partners to completely understand the current state of the OGC asset and what financial inputs are required, over what period of time, to bring it to sustainable performance, 2) creating initial asset improvement, management and marketing communication plans, 3) interviewing, evaluating and selecting partners, 4) running financial scenarios, and 5) preparing for a possible community vote.
~ Steve Spaner – – Read The Whole Article, Click Here
Shred-A-Thon June 14
FREE Shredding Event! Sponsored by Oakmont Kiwanis and OVA

Friday, June 14 from 9 AM to 12 PM in the Berger Parking Lot.

Oakmont residents and businesses are invited to bring their documents and other shreddables to the truck that morning. Please limit your documents to the equivalent of 5 banker's boxes.
Inside Oakmont
Music On The Green, JUNE 2
Music performed by the Decades
Sunday – May 19 at 3 PM on the Oakmont Golf Club Driving Range (7025 Oakmont Drive)
Please note that Music On The Green has been rescheduled to June 2.
3 PM food & beverage available / 4 PM Concert Begins!
Presented by the OVA & the Oakmont Golf Club. Bring your own lawn chair or blanket. There will be a designated parking area for golf carts. Bring cash to purchase food & beverage. Bar onsite. No outside food or beverage allowed.
RSVP: OVA (707) 539-1611

2019 OAKMONT GARDEN TOUR TUESDAY, MAY 21ST 10:00 AM to 1:00 PM
The Oakmont Garden Club welcomes Oakmont residents and their guests to come and visit the seven Oakmont gardens offered this year on our annual garden tour.

We are very excited about the range of gardens in this year's tour. All are very different and unique in their own way and are a reflection of the owners' personalities. We hope to show visitors that any garden can be lovely, regardless of its size, theme, orientation or plant material. Also, we hope to show that a garden doesn't need to be perfect, or to be manicured, or to be professionally designed, to be absolutely magical. We hope you will be inspired!

Pick up a map of the tour gardens at the Berger Center at 10 am (one per group/car). Maps of different colors have different routes, so as to avoid too many visitors at any garden at one time. Your specific route will be shown on the map and a synopsis of each garden is printed on the back of the map.

Garden owners will be wearing a colorful lei – feel free to ask them questions (gardeners love talking about their garden). All but the most common plants will be tagged. Bring your camera/phone.

Please do join us! We want to make this a success and something we look forward to every year.

NOTE: A light rain or mist will not affect the tour. A significant rain, however, will require that we cancel the tour for this date only and re-schedule for a later time. If this is the case, please watch for the announcement in an upcoming OVA eblast.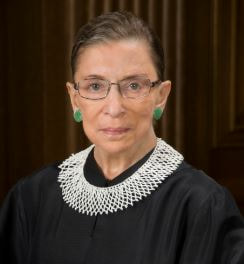 May 19, 2019
Oak Dowling presents Ruth Bader Ginsberg
10:30 AM Berger Center
At the age of 85, RBG has developed a lengthy legacy and become an unexpected pop culture icon. Oak Dowling, a retired attorney who has lectured often in the North Bay and gives regular OLLI classes, will explore Ginsburg's life and career with an emphasis on her legal legacy.

Oak Dowling, JD, is a retired attorney with 43 years of practice, including 31 years in San Rafael. He's a graduate of the University of Wisconsin – Madison Law School and a native of Chicago. He has lived in Marin County for over 40 years and for over 24 years he has been a part-time instructor of Law at College of Marin. In his Law classes, he has used courtroom drama to demonstrate legal principles. As an avocation, he has performed in theater in Marin and San Francisco over the last 15 years.
Friday, June 14 in the Berger Center, Jazz Club presents…
(Above from left to right) KENNY WASHINGTON, LARRY DUNLAP, BOBBE NORRIS, LEON JOYCE, & DAN FEISZLI. Find descriptions of these amazing artists in the June 1 Oakmont Newspaper.. here in the e-blast we'll let the music speak for itself…
The above video is a playlist containing 5 videos, they will play one after another. A few ads may play as well.

Tickets may be purchased by dropping a check off in the Jazz Club folder at the OVA Office. $35 each.
17th Oakmont Annual Car Show: May 25
At the Berger Center
6633 Oakmont Drive
Santa Rosa, CA 95409
Saturday, May 25, from 10 AM – 1 PM
THE SHA-BOOM EVENTS CLUB IS VERY PROUD TO PRESENT:
MR.WILLIAM FLORIAN
Saturday July 27, 2019 / Berger Center / Doors open 5 PM, Show starts 6 PM
Cost: $18 per person (no membership required)

William puts on a great show. You will be tapping your feet and singing along, so come enjoy a great night of song. We will have cookies, coffee, and lemon water available. You may also bring your own food, snacks, and beverage of your choice. You and your group will be seated at preassigned round tables based on payment dates. All who want to sit together must have all payments in one envelope as we will not add people to your table later; No exceptions. Please note, Sha-Boom Club will not be doing the 4th of July this year due to poor health. Any questions please contact Ray, 539-6666.

May 19 at 2 PM & 7 PM playing.. PUZZLE
Agnes (Kelly Macdonald), taken for granted as a suburban wife and mother, discovers a passion for solving jigsaw puzzles and she is drawn into a new world—where her life unfolds in ways she could never have imagined. Macdonald is superb in her portrayal of the blossoming Agnes in this poignant film of self-discovery. Irfan Khan, as her puzzle partner, and David Denman, as her husband, also shine. Critically acclaimed, Puzzle has been a film festival audience favorite. (2018), R (language), 103 minutes.
San Francisco Lamplighters, June 1:
Back by popular demand, join in the fun as the San Francisco based Lamplighters perform selections from the comic operas of Gilbert & Sullivan and other works of comparable wit, literacy and musical merit.…Reserve A Seat
David Thom Bluegrass Band, June 13:
With a vocal range called staggering, David sings from the deepest bass to the highest falsetto and plays a rhythm guitar. He is joined by the hard driving 5-string banjo of Andy Shaw, the tone of Brian Judd's mandolin, the aged and knowing fiddle of Paul Shelasky and the rock solid foundation of Jeff King's bass round out the band.…Reserve A Seat
Club Council
OVA Staff and their assignments
June 10, 2 PM, West Rec Upstairs
Kevin Hubred and his Staff will attend and discuss each person's primary responsibilities and answer questions.

We'll also discuss a handout that's been developed by the Communications Committee to give to residents to better describe the activities available here in Oakmont. This will give us a chance to further discuss communications options available to clubs.

The Oakmont Club Council is comprised of representatives of any of Oakmont's active Clubs and Associations. If you didn't receive an email inviting you to the meeting and wish to attend, please email oakmontclubcouncil@gmail.com so we can keep track of how many people to expect.
Foxes in the Henhouse
Alice Fitzwater, Pamela Joyce, Andrea Ringlein, and Dorian Bartley
Winners of the 2013 NorBay Award for Best Acoustic-Folk Band.
Four audacious women with stunning three-part harmony and mad instrumental skills.
Honky Tonk For The 21st Century

Saturday August 3, at 7 PM in the Berger Center
For tickets and more information please contact orptickets@gmail.com or facebook.com/OakmontRainbowProductions
Senior Social Club
Tuesday May 21, we'll be hosting Patrick McCarty presenting "Take Your Medicine" from 11 AM to 12 PM.

As always feel free to join us in the WEST RECREATIONAL CENTER for all entertainment. If anyone is interested in volunteering, please call Jill at 323-828-9112
Alzheimer's & Dementia Caregiver Support Groups
Presented by the Alzheimer's Association. Build a support system with people who understand. Free of charge and walk-ins are welcome. Open discussion with a trained facilitator. Call 800-272-3900 for more information.

Oakmont Support Group: 4th Monday of the month, 10 AM to 11:30 AM at 301 White Oak Drive, Santa Rosa, CA 95409.
Outside Oakmont
Local Libraries
Friends of the Santa Rosa Libraries
Summer 2019 Book Sale: Located in the Forum Room the sale will be held on:
Friday, June 7 – 10 AM to 5 PM
Saturday, June 8 – 10 AM to 5 PM
Sunday, June 9 – 2 PM to 5 PM
Free Admission
Central Library Forum Room – 211 E Street, Santa Rosa
707-308-3020 x1541
Cash or Checks Only

Books & Brews – Sonoma County Library
Saturday, June 8 from 7 PM to 9 PM
The Sonoma County Public Library Foundation invites you to support our libraries. Join us for a lively evening at the Santa Rosa Central Library for beer, appetizers, and conversation with the Sonoma County Library's new Director, Ann Hammond.
Buy tickets at scplf.org/events
Emergency Preparedness Fair
Learn what to do before disaster strikes. FREE for the entire community! Bring your neighbor!

When: Sunday, June 23 • 1:00 – 4:00 pm
Where: Congregation Beth Ami • 4676 Mayette Ave, Santa Rosa • Free parking

All are welcome. Bring your neighbor! The Jewish community is partnering with local organizations and first responders to help you be ready for any future crisis. BE INFORMED. KNOW HOW TO RESPOND: Presentations on home safety, medical response, survival strategies and the 911 system from local PD and fire department. Practice skills such as CPR and first aid. Learn important numbers to have on hand. HAVE A PLAN. GET TO KNOW YOUR NEIGHBOR: Informational materials to develop your personal plan. Get your neighborhood ready. Checklists and ideas for "go" bags and to shelter in place. BUILD YOUR CONFIDENCE: Sit with companion canines, crawl in fire engines and patrol cars, visit an animal mobile command center. Enjoy food trucks, water stations, bounce house, and secure children's playground.

For more information, contact info@sfjcf.org
Sonoma and Petaluma Adobe State Historic Parks: May 2019 Events
Campfire Program ~ Saturday, May 18, 6:30pm-7:30pm
Our monthly campfire program is an experience that's fun for everyone! Join us in the Sonoma Barracks Courtyard for a short educational talk, great songs, and a tasty marshmallow roast! All ages welcome, free of charge.
Living History Day at the Petaluma Adobe ~ Saturday, May 25 10:00am – 4:00pm
Meet the vaqueros, traders, cooks, and crafts people who lived in Mexican California. Dip candles, make baskets, churn butter, rope with vaqueros, and play historical games. Bring a picnic and watch history come alive! Admission: $3.00 for adults, $2.00 for youth ages 6-17, ages 5 and under free.
Petaluma Adobe State Historic Park, 3325 Adobe Road, Petaluma.